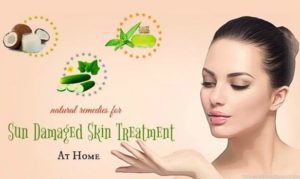 Although it feels good to spend your free time in the sun, it can have harmful effects on your skin. It is because the sun releases ultraviolet (UV) light, which damages the human skin and leads to sunburn. Over time, these rays can cause wrinkles and fine lines, dark spots and other skin problems.
According to research, UV radiation is the main reason for about 80% of skin aging. If you are damaged by sunlight, then you should turn back the clock, right? Fortunately, there are some ways to undo problems caused by the sun. Although it is impossible to eliminate any damage, there are still some ways to mitigate the consequences.
read more : 8 intelligent tips for dealing successfully with stress
What is it?
Although most people love the light and warmth of the sun, too much sun exposure will damage the skin, as previously mentioned. The heat of the sun dries out areas of the skin that are not protected and reduce the supply of the skin with natural moisturizing oils. There are some types of sun damage to human skin that are:
Dry skin:
The sun-exposed skin could consistently lose essential oils and moisture, making it flaky, dry, and prematurely wrinkled, even in young people.
Actinic keratosis
This little bump feels like a scaly, small patch of sun damaged skin with a red, pink, yellow or brownish tint or sandpaper. Actinic keratosis is not like sunburn or sunburn but does not often disappear unless it is frozen, chemically removed or treated by a specialist.
read more : How to clean dry skin
sunburn
This is a common skin injury that occurs immediately when our skin is exposed to UV radiation. Mild cases of sunburn lead to painful redness of the skin, while heavier cases lead to fluid-filled bumps or larger blisters.
Long-term changes in the skin collagen
These changes include photoaging, in which the skin will age prematurely from exposure to the sun, and actinic purpura, the bleeding from fragile blood vessels under the surface of the skin. For skin aging, the affected skin develops wrinkles and fine lines due to changes in collagen of a layer of skin called the dermis.
In actinic purpura, UV rays from the sun's rays destroy structural collagen, which supports the tiny blood vessels in the skin walls. Especially in the elderly, this collagen damage makes the blood vessels much more fragile for a flick.
Over time, repeated exposure to sun and sunburn can trigger the risk of malignant melanoma and other types of skin cancer.
If you have bright eyes and fair skin, you are at greater risk of sun-borne skin damage and skin cancer. The reason for this is that your skin has less dark pigment called melanin, which protects the human skin from UV radiation [1] [2].
How to prevent sun damaged skin
To avoid sun-damaged skin, you must perform the following steps:
Wear a good quality sunscreen before going outside. Choose waterproof sunscreen with a sun protection factor (SPF) of at least 30, with a broad protection spectrum against UV-A and UV-B rays. Be sure to use it again often to avoid sweating or washing it off.
Use a lip sunscreen. Choose the product for lips, with SPF of 20 or more.
Reduce your outdoor time when the sun has reached its peak (between 10am and 3pm in the US).
Wear long pants, long-sleeved shirts, and a wide-brimmed hat.
Wear sunglasses with UV protection
Some medications and skin care products can increase your potential risk of UV damage. So get to know them. These include certain antibiotics, prescription drugs for the treatment of high blood pressure, acne, heart failure, allergies and mental illness. If you take a prescribed medicine and spend a lot of time outdoors, you must ask your doctor to take special precautions to avoid sun exposure.
Keep in mind that some special non-prescription skin care products containing alpha-hydroxy acids can make your skin more susceptible to sunlight damage.
Sun Damaged Skin Treatment
read more : 11 Reasons dry skin on face
1. cucumber
Cucumber is considered the epitome of freshness. Its aroma and color are incomparable. In Ayurveda, cucumbers are used for skin care because of their cooling and lightening effect. With a rich content of vitamin C, it can fade discoloration of the skin [3].
In fact, cucumbers are fantastic in terms of healing the skin, which is damaged by the sun. Stains, sunburn and dullness can be reduced by appropriate use of cucumber slices on the skin.
To use cucumbers as a natural and effective sun-damaged skin treatment, you can follow these guidelines:
Mix 1 teaspoon of wheat flour and applesauce, followed by a reasonable amount of fresh cucumber juice to get a thick paste
Apply the paste to your skin, including your facial and neck skin.
After 15 minutes, rinse with lukewarm water
Immediately apply your serum or lotion
Repeat this routine 1-2 times a week
2. lemon juice
This ingredient is highly recommended for sun-damaged skin due to its natural bleaching action. The mild acids in lemon juice, which are alpha and beta hydroxy acids, work to fade discoloration and dark spots on your skin, not to mention the ability to facilitate the regeneration of new skin cells. They also help lighten skin naturally.
What you need to do is:
Take a fresh lemon to squeeze its juice in a small bowl
Use a cotton swab or ball to apply the juice to the affected skin
After 15 minutes, rinse with cold water
Use a soft towel to dry the skin and then apply your moisturizer
Repeat this treatment twice a day for 6-8 weeks